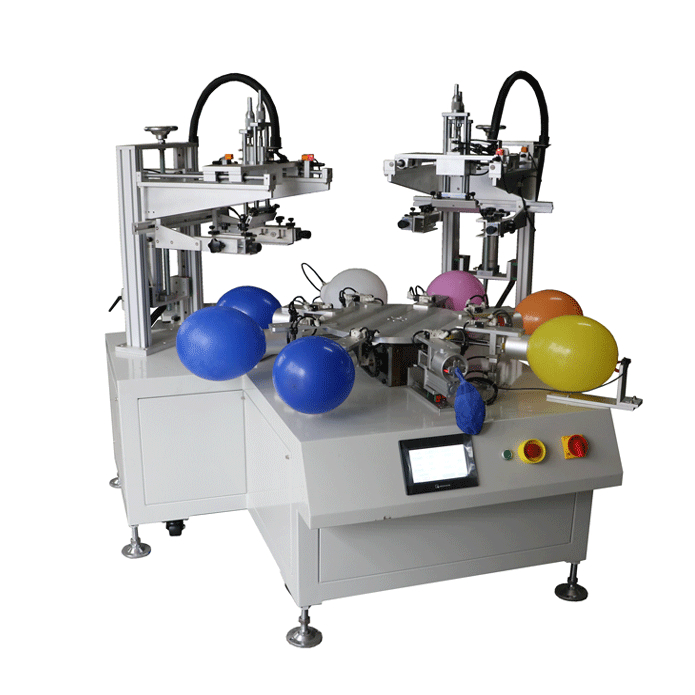 Automatical two colors Ball screen printing Machine
Model No.︰
SA2-20BV8
Brand Name︰
KC
Country of Origin︰
China
Unit Price︰
US $ 13800 / pc
Minimum Order︰
1 pc
Product Description
SA2-20BV8 Automatical Two colors Balloon screen printing machine//Structure

Working table

8-station Rotating workbench

To be printed

Variety of inflatable balloons

Squeegee stroke

Adjust the Limited switch

Squeegee and screen plate control

High precision guide shaft

SA2-20BV8 Automatical Two colors Balloon screen printing Machine //Parameters

Technical parameters

Max Printing speed:500Pcs/H;

Max Printing area: 150*150(mm;

Thickness of substrate:200(mm)

Table size:180*180(mm)

Max frame size:300*250(mm

Power :220V/50HZ

Works supply

110V-220V Power supply;

5-7Barcompress air;

Package parameters

Package dimension:3580mm×3530mm×1420mm

Gross weight: 750kg

CBM: 16.459

H.S.CODE

8443192190

Certificate

CE

SA2-20BV8 Automaticaly Two colors Balloon screen printing Machine//Advantage

Function

Microcomputer control of single-chip operating technology, brand-name electronic components with electrical equipment;

Pneumatic manual placement, automatic quantitative inflatable device to ensure that balloon size and stability;

High precision dial table, accurate and stable transmission;

Two - color precision silk screen, overprint accurate;

Pneumatic screen printing device, easy to adjust and simple;

Silk screen finished, the balloon automatically deflated, easy to remove the hand.
Application︰ At some festive parties, you must have seen all kinds of balloons, and you must have thought of how they are printed. In fact, most of these balloons are printed using screen printing machines. Printing balloons are different from printing other products. Printing balloons must first inflate the balloon to a certain size before printing. After the balloon contacts the screen, its contact surface will be compressed into a flat surface for printing.
The printing of balloons is not technically difficult. The difficulty is how to print on any position of the balloon at will. This requires work on the fixture holding the balloon. The arbitrary control of the balloon position also determines the balloon printing position. Feel free to control.
This video just shows the process of two-color printing on the same part of the balloon.
https://youtu.be/JeT9MXCNbpQ
Related Products