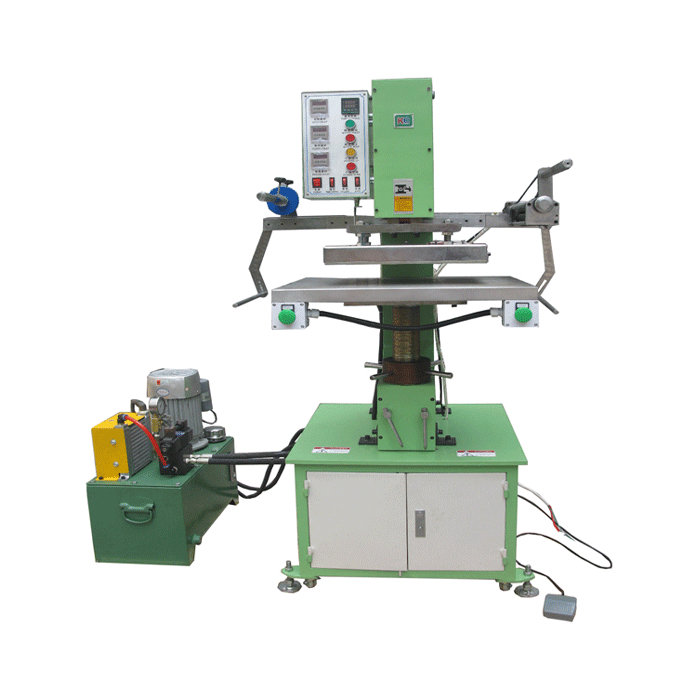 Hydraulic hot stamping machine(HH-TC3040LP)
Model No.︰
HH-TC3040LP
Brand Name︰
KC
Country of Origin︰
China
Unit Price︰
US $ 4853 / pic
Minimum Order︰
1 pic
Product Description
Hydraulic embossing stamping Machine //Structure

Working table

High strength Steel plate , size: 480*600mm.

Stamping Head drive

Hydraulic drive

Foil collecting method

Motor-drive , Collecting time adjustable

Press adjustment

Up-down of working table

Temperature control

Heating tube heat up,Automatically temperature controlling, temperature free setting

Foil collecting

Motor drive, Automatically collecting

Max Pressure

20T

Hydraulic embossing stamping machine //Usage and characters

Guide

Gilding - paper, leather, wood, plastic,

Baked - wood products, baked painting, gift box packaging;

Embossing - paper, leather, cloth.

Flat-object stamping machine with large-pressure, Suitable for stamping on invitation letter, card. Leather, wooden gift, Paper package, Plastics film, Electron products;

Manual. Automatic feed foil, automatic temperature controlling ensures stamping quality.

Because of large pressure, It is suitable for gilding and baking Impression on leather, paper, wooden materials.

Hydraulic drive, pressure more large.

Application fields

Paper Gilding, Leather Impression, Wood ware Baking

Paper Concave-convex embossing, Cloth hot stamping,

Plastics Bronzing

Mobile screen, Household appliances Panel , Thick paper card, PVC board Etc. large dimension Flat substrate stamping and Bronzing.

Woodiness objects baking-burns and Impress;

Leather bronzing and Molding;

Paper products concavo indentation.

Graduated disc of clock bronzing.

Die-cutting.

Hydraulic embossing stamping Machine //Parameter

Technical parameters

HH-TC3040LP

HH-TC4040LP

Hot plate area:300 ×400 mm

Working table area:480 ×600mm

Max printing pressure:20,000 Kg

Up and down distance:100mm

Heat wattage: 6×500W

Foil in feed: Motor Drive

Temperature adjustment:0-300oC 。

Hot plate area:400 × 400 mm

Working table area:480 ×600mm

Max printing pressure:20,000 Kg

Up and down distance:100mm

Heat wattage: 6×500W

Foil in feed: Motor Drive

Temperature adjustment:0-300oC 。

Works supply

110V-220VPower supply;

46# Hydraulic oil

Package list

Size: 1.06*1.03*1.80m
Gross weight: 650kg;
CBM: 1.96524

Size:0.75*0.55*0.83m
Gross weight: 85kg;
CBM: 0.342375

H.S.Code

8443198000

Certificate

CE

Hydraulic embossing stamping machine //Advantage

Function

Bench made ​​ofhigh strength cast steel forging, has a very high flatness and stability;

Thread rising institutions to adjust the table lift to facilitate the opening and closing of space according to the height adjustment of the product tipping machine;

Relay control program is running, easy operation, easy maintenance;

Pairs of buttons control the stamping head up and down, security is greatly enhanced;
Hydraulic drive instead of the pneumatic drive, stamping pressure significantly improve the stability is greatly enhanced;

Heating pipe heating, rapid heating, replacement is simple and convenient;

Heating plate can be removed to facilitate installation and replacement gilt template;

Ironing board and table parallelism can be adjusted to facilitate the flexible adjustment depending on the size of the different regions of the pressure;

Automatic temperature control system can be set depending on the product temperature, automatic temperature control; temperature control accuracy of about 5 degrees;

Hot foil stamping degree of time and rolls of time can be set freely according to different technical requirements;

Foil paper automatic document feeder, conveyor length can be set according to the size of the stamping area of ​​freedom.
Application︰ The hydraulic hot stamping machine is a type that uses the pressure generated by the fluid to drive the action of the hot stamping machine. Since the fluid hardly changes in volume during the compression process, the pressure is greater and more stable. The advantage of the hydraulic hot stamping machine in the large-size hot stamping process more obvious. But the hydraulic hot stamping machine must use a hydraulic pump to provide liquid, and the liquid transmits pressure through the gap between the hydraulic valve and the hydraulic cylinder.
Related Products