Fixture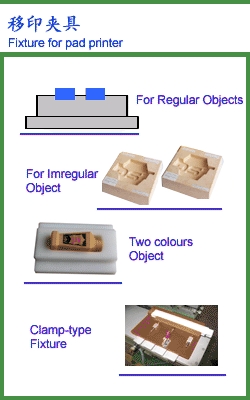 Fixture

Different products require different fixture which orientation support and overprint function in the process of pad printing, screen printing or hot stamping.
Cylinder, cuboids objects need the fixture that is produced by mechnical process.This fixture can achieve the accurate position tolerance.
Most of mold-plastics products have complex surface. It is easy to make fixture by no-saturation polyester resin. When adding hardener and activator to the resin, infusibility solid will be build for chemicals reaction. Put the product into resin before it become solid, one fixture finish.
3.For Standard Cylinder
P
roducts
Cylinder products are usually used in screen printing, hot stamping and heat transferring. The fixture will keep the product runming around the axis freely. When screen plate, stamping plate or silicon roller press down and contact with products, the fixture brings product moving around.
It is important to look for comm onness anchor point on product. High-quality fixture will ensure high quality printing .
Pad printingmachine fixture, rotating pad printer fixture, shuttle pad printer fixture,automatic pad printer fixture, Bottle cap pad printer fixture,helmet fixture for pad printer