The flat screen printing machine in which the screen is opened and closed at a certain angle and contacts the worktable is called an inclined arm screen printing machine. The screen clamping mechanism is installed on a cam rotating shaft, and the printing is completed by periodically leaving and contacting the worktable, and the printing speed is faster. , Compared with the screen printing machine with vertical lifting and lowering of the screen, the precision of the inclined arm type screen printing machine is lower. Another feature of the inclined arm type screen printing machine is that the scraper and the ink return knife move in the front and rear directions. The inclined arm type screen printing machine is especially suitable for occasions with large quantity, single product, and low precision requirements, such as: sublimation paper, partial UV, carton packaging, thermal transfer film, etc.
S-JY90140PV Slant-arm screen printing machine//Structure

Pre-treatment

Automatically absorb.

Working table

Vacuum working table -1050*1500mm

Actions

Screen plate rise and drop with Swing

Squeegee stroke

Adjust the cam and connecting rod

Squeegee control

Guide shaft

Ink drying

Natural drying or with UV Machine. Drying rack

S-JY90140PVSlant-arm screen printing machine //Usage and characters

Guide

Fit printing soft and thin products such as paper, plastics film etc.;
With vacuum working table ensure adsorbing object when printing;
Working table keep stillness but screen frame moving along slant angle make the printing speed higher ;
Also widely used in Glass Plate, Machine panel screen printing;
With UV curing machine, Can finish many UV special printing process including UV Spot Varnish, UV frosting , UV glitter Powder ;
Suitable for printing sheet-fed adhesive sticker
Suitable for printing water transfer label and heat transfer label through different process.
Max Printing area: 900*1400mm.
Rubber Squeegee movement driven by Taiwan frequency conversion controlling system .
widely used to print circuit aboard , Film switch panel etc. industrial High technology field.

Application

Paper package, Film printing, UV Process, furniture industry, glass industry, circuit board industry, electronic parts, auto parts, Machine panel UV Scrub ,heat transfer film

S-JY90140PV Slant-arm screen printing Machine//Parameters

Technical parameters

S-JY90140PV Slant-arm flat screen printing Machine
1.Max printing thickness:0-40 MM;
2.Power Pressure:4-6kgf/cm2;
3.Net weight: 700KG;
4.Max printing area:900×1400MM;
6.Max printing speed:1000Pcs/H.
7.Max screen frame size: 1200×1700mm;
7. Table adjustment Longitude: +-0.1mm;
8. Working table size: 1050×1500mm

Factory

110V-220V Power supply;
5-7Barcompress air;

Package parameters

Gross weight: 789kg
Wooden case dimension:1890×1420×1450mm
CBM: 3.8915CBM

H.S.CODE

8443198000

Certifice

CE

S-JY90140PV Slant-arm screen printing Machine //Advantage

Function

Designed with its structure equipped with both power-driven and air-powered devices;
The printing operation and lifting transmission are under the control of the imported variable automatic system, and the complete machine is characterized by uniformity of operation.
Its printing plate is cast with aluminum alloy ,Stainless steel sheet of 2mm in thickness is adhered to the surface of the printing plate, and the printing plate may be smooth, even, and free from distortion;
In addition, it is provided with coordinate vernier device and automatic air-intake function, ensuring still more easy and accurate printing plate alignment.
Slide rail adopts linear guide rail made in Germany, Free of attrition wear. Transmission gear is equipped with imported timing belt and it is characterized by free actuation and adjustable speed.
Pressure of squeegee blade and in returning blade are adjustable and may be separately manipulated, and adjustment up to 45 degrees is allowed as well
It is equipped with safe bounce-back function, ensuring safety in operation it is also provided with automatic synchronous screen-departure function , and this may avoid the scumming of printed materials effectively.
All components of the electrical section are from noted brands, its panel is fitted with electronic touch keys. the complete machine is coated with static pyrolytic coating, with esthetic appearance , good taste, and solvent resistance.
| | |
| --- | --- |
| Application︰ | The flat screen printing machine in which the screen is opened and closed at a certain angle and contacts the worktable is called an inclined arm screen printing machine. The screen clamping mechanism is installed on a cam rotating shaft, and the printing is completed by periodically leaving and contacting the worktable, and the printing speed is faster. , Compared with the screen printing machine with vertical lifting and lowering of the screen, the precision of the inclined arm type screen printing machine is lower. Another feature of the inclined arm type screen printing machine is that the scraper and the ink return knife move in the front and rear directions. The inclined arm type screen printing machine is especially suitable for occasions with large quantity, single product, and low precision requirements, such as: sublimation paper, partial UV, carton packaging, thermal transfer film, etc. |
Product Image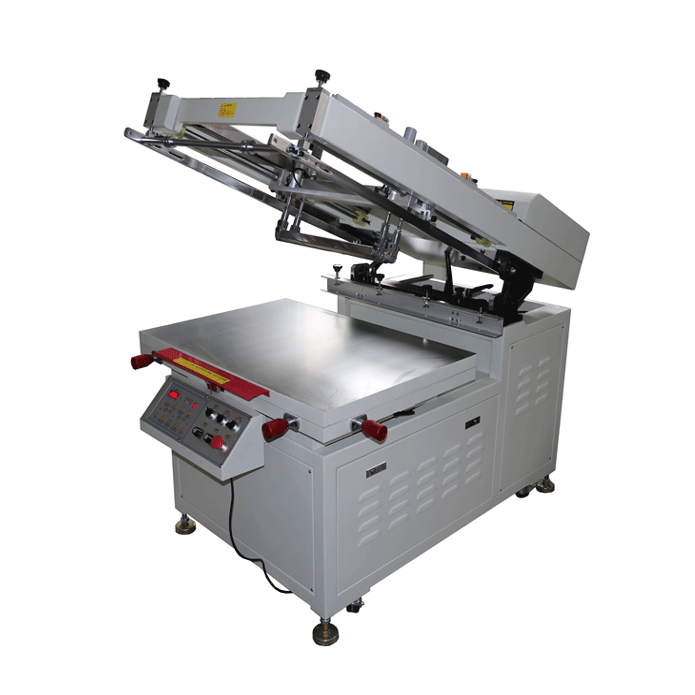 Oblique arm screen printing machine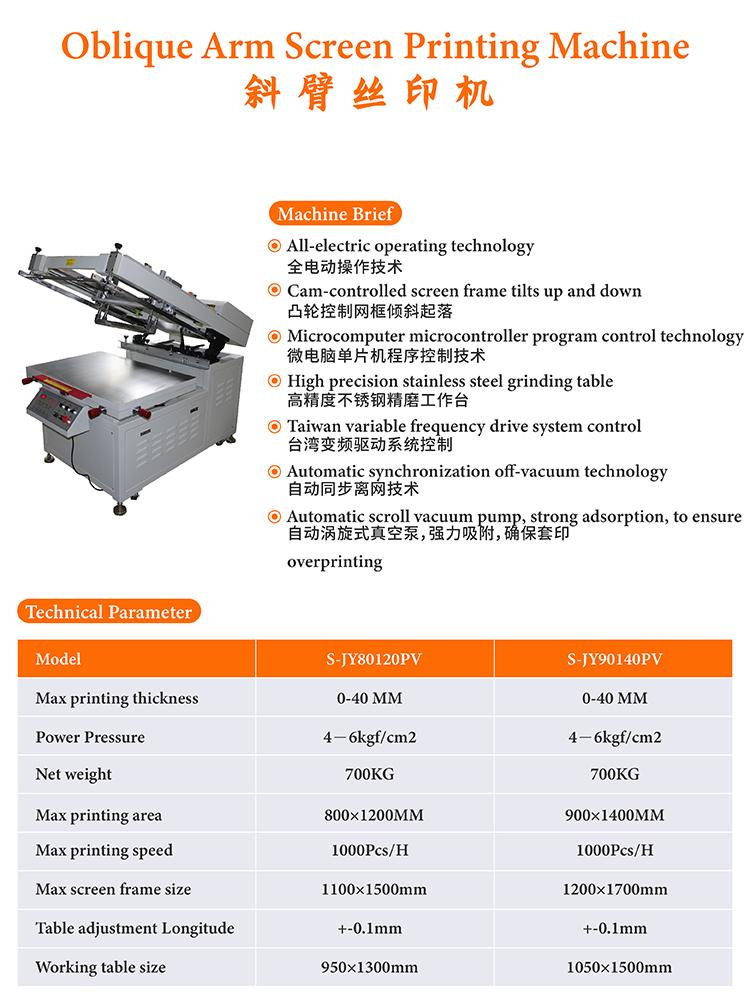 KC Oblique arm screen printer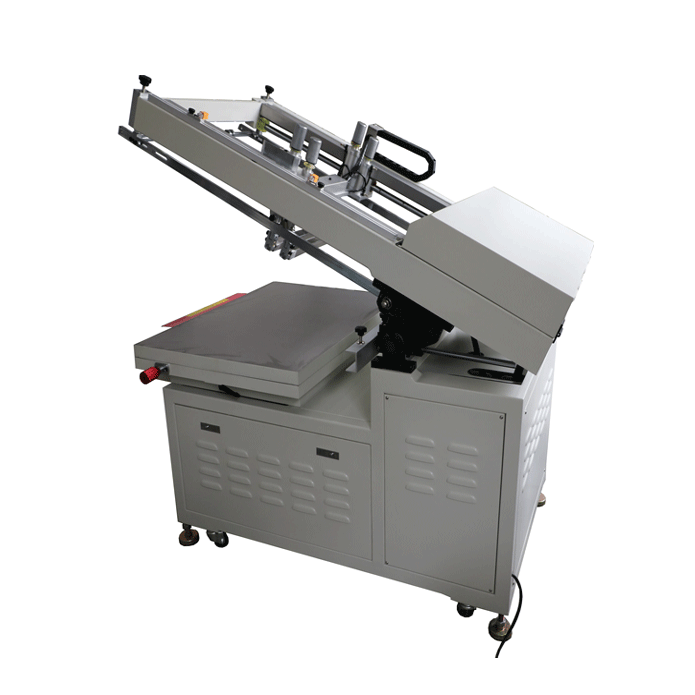 Oblique arm screen printer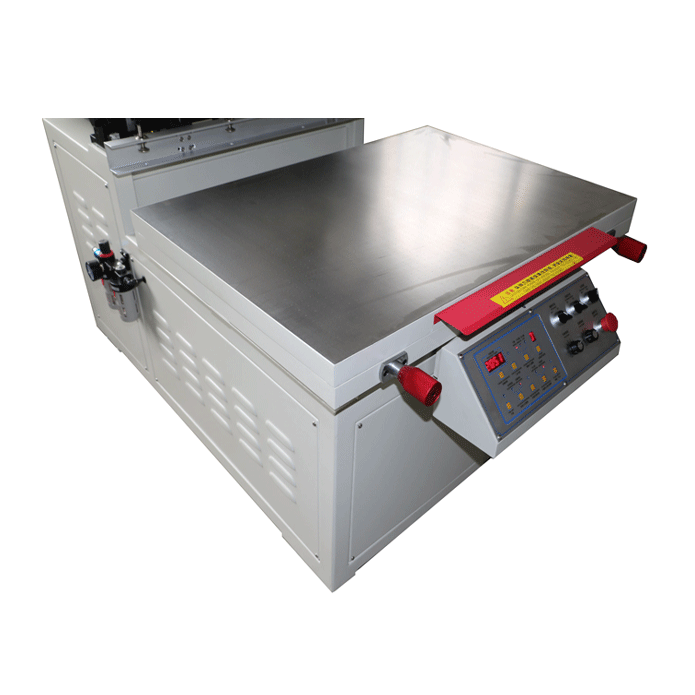 Oblique arm screen printer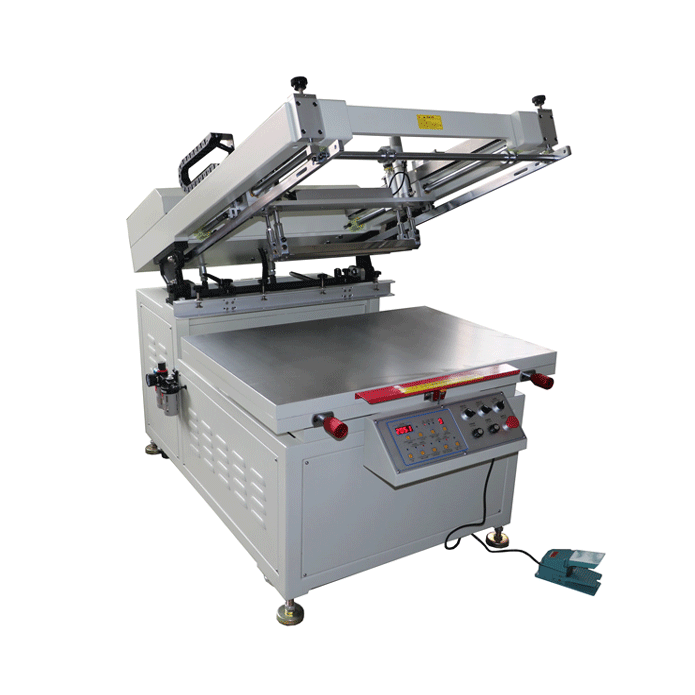 Oblique arm screen printer

Oblique arm screen printer